You are here
CIVITAS (Almería)
Category:
Coed/Mixed Residence hall
Address
C/Fernán Caballero, 1 (esq. Avda. Montserrat)
Description
Residencia de la Un iversidad de Almería de  nueva construcción ( septiembre 2016). Situada en zona de estudiantes, céntrica deAlmería y de camino a la universidad.
Con un total de 238 habitaciones dispone de  6 salas de trabajo, 2 de estudio y otras para ocio como sala de TV, de juegos, cafetería y salón de actos. para estudiantes que vengan para curso completo, para estancias temporales o estancias especiales de másters o cursos. Igualmente acogemos grupos de estudiantes 
Admission Period
Se admiten reservas durante todo el año. 
Admission requirements
Estudiantes, profesores o personal relacionado con la universidad o con otros estudios de otros grados
Closing dates
No cerramos en todo el curso
Characteristics common to all rooms.
Situación excelente dentro de la Allmería camino a la Universidad. Estancias de curso completo o temporales. Opción en las temporales de pensión alimenticia, en curso completo pensión completa. Salas de estudio y de trabajo, gimnasio, lavandería, cafetería, patio, salón de actos, sala de TV, salas de juegos.Actividades socioculturales y deportivas.Comedor con servicio tipo buffet con amplios horarios de comedor y opción a picnic o comidas fuera de horario. Recepción 24 horas
Room types and prices
| Room Type | Description | Price/Month | Capacity |
| --- | --- | --- | --- |
| Doble | Cama de 200x90, escritorio, baño propio, aire acondicionado/calefacción independiente. WIFI. limpieza y cambio de sábanas | 715 € | 2 Personas |
| Individual | cama 200x90, escritorio, baño propio, aire acondicionado/calefacción independiente WIFI, escritorio, estanterías de apoyo y butaca de lectura | 869 € | 1 Persona |
Facilities
Handicapped accessible
, Air conditioning
, Bar and/or cafeteria
, Library
, Kitchen
, Dining hall
, Gym
, Lawn and/or garden
, Self-service laundry machines
, Vending machines
, Conference room
, Study lounge
, Game room
, Meeting room
, TV Room
, Auditorium
, Terrace/patio
Services
Internet in student rooms (WiFi and/or ethernet)
, Room-cleaning service (not daily)
, Daily press
, 24 hour receptionist
, 24 hour security guard
, Towel and bed linens/sheets service
, Premium television channels
, WiFi in common areas
Activities
Disponemos de pequeño gimnasio y tenemos concertado precio especial en EGO SPORT CENTER de almería. 
Excursiones, talleres y conferencias. programa a definir durante el curso.
Main Rules
Tenemos un reglamento publicado en la web que garantiza la convivencia y el descanso. 
En recepción hay personal 24 horas por lo que se hay libre acceso de residentes. Pueden entrar al comedor personas ajenas a la residencia y a las habitaciones comunicándolo en recepción.
Meal plans
Breakfast
, Breakfast, lunch and dinner
Public Transport
Situada a 10 minutos andando de la estación intermodas de tren y autobús. Parada para la universidad a 100 metros de la residencia 8 15 minutos de trayecto) y a 10 minutos del aeropuerto en coche.
Reviews of: CIVITAS
More residences in Almería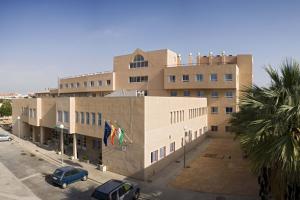 4 Photos
Residencia (Coed/Mixed)
Starting at
215 €
person/month