You are here
RESIDENCIAL HABUNI (Santiago de Compostela)
Category:
Coed/Mixed Residence hall
Address
15706 Santiago de Compostela, A Coruña
Description
Residencial Habuni se encuentra situado en zona de Campus Sur, muy cercano a las facultades. El comedor es exclusivo para los residentes. Cuenta con menús variados a elegir entre primeros y segundos. Sala de juegos. Actividades lúdicas incluidas. El servicio incluye pensión completa de lunes a viernes, y desayunos los domingos y festivos. Las instalaciones cuentan con zonas office para calentar comida, desayunar y merendar.
Admission requirements
Es necesaria entrevista personal con dirección.
Closing dates
Las zonas comunes se cierran a las 23:00 horas.
Characteristics common to all rooms.
Todas las habitaciones están equipadas con mobiliario ideal para el estudiante.
Room types and prices
| Room Type | Description | Price/Month | Capacity |
| --- | --- | --- | --- |
| Individual con baño privado | Habitación individual con baño de uso privado | 850 € | 1 Persona |
| Habitación individual | Habitación individual con baño compartido | 750 € | 1 Persona |
| Habitación doble | Habitación doble con mobiliario para dos personas. | 575 € | 2 Personas |
Facilities
Handicapped accessible
, Dining hall
, Game room
, Meeting room
, TV Room
Services
Internet in student rooms (WiFi and/or ethernet)
, Room-cleaning service (daily)
, Towel and bed linens/sheets service
, WiFi in common areas
Activities
Fuera de época de exámenes realizamos diferentes actividades lúdica; noches temáticas de comida, excursiones, concurso, ...
Main Rules
Es obligatorio firmar y obedecer la normativa de convivencia.
Meal plans
Breakfast, lunch and dinner
Public Transport
La parada de autobús está en la misma calle. La estación de tren está a 10 minutos caminando.
Reviews of: RESIDENCIAL HABUNI
More residences in Santiago de Compostela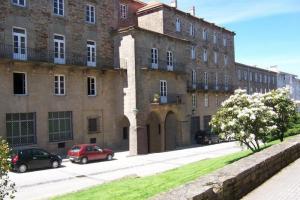 4 Photos
Colegio mayor (All-male)
Starting at
550 €
person/month
3 Photos
Residencia (All-female)
Starting at
625 €
person/month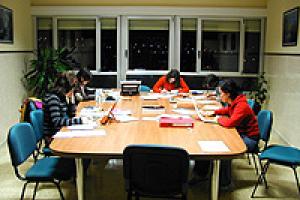 4 Photos
Colegio mayor (Coed/Mixed)
Starting at
915 €
person/month